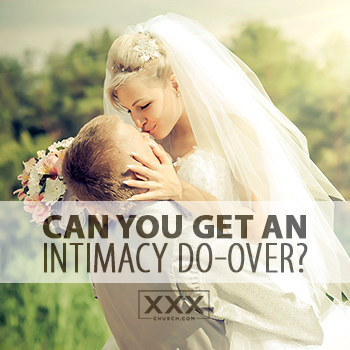 When Craig asked me to write a follow-up to Dave Willis's recent post, 7 Intimacy Killers in Marriage, I immediately agreed. After all, I was guilty of many of the intimacy killers Dave talked about. These killers not only destroyed the intimacy between my wife and me, but they ended up contributing to the destruction of our marriage as well.
But once I began to write, I realized I'd already shared a lot of those details in my recent post, 3 Ways Porn Destroyed Sex in My Marriage. I knew my story was still relevant to this discussion, but I didn't want to sound like a broken record.
Then it hit me. Instead of focusing on how my mistakes had caused so much harm in the past, I could share how learning to avoid them has benefited my current relationship.
You see, I've been given a do-over when it comes to intimacy.
If you've read my book, 10 Lies Men Believe about Porn, you already know that I'd been waiting for my former wife in hopes of reconciliation. What you probably don't know, however, is that God had another plan. Just last summer, she married a great guy, closing the door on our reconciliation but opening the door for me to date again.
To be honest, I was a bit hesitant to get back into dating. I didn't want to repeat the same mistakes and hurt another woman so deeply. I knew that if I chose to pursue another relationship, if nothing else, I would need to do one thing very differently from day one.
This time, I would need to be open. No more hiding. No more lies. No secrets. (Tweet This!) I would vow to be my real self around her. If any woman was going to fall in love with me, it would have to be with the real me—scars and all.
Likewise, I would want her to feel safe enough around me to let her true self be known as well. As long as we both were committed to openness and honesty with one another, perhaps our relationship would be spared from many of the same intimacy killers from my past.
A few months back, I decided I was ready to give dating another shot. I asked out my best friend, and luckily, she said yes. And even though we've only been together for a short time (and have yet to be physically intimate), I've already experienced a level of intimacy with her that I never felt in 7 years of self-focused marriage.
Don't get me wrong here. I'm not saying this deep intimacy exists between us because we're so perfect for each other. No, I believe it exists because we've chosen to trust each other enough to be completely open and honest with one another.
We both know of each other's struggles because we share them openly. We're aware of our temptations because we discuss them frequently. She knows the worst stuff about me, and she still chooses to love me. I know the worst stuff about her, and I still choose to love her.
This, I am discovering, is what true intimacy feels like: To be accepted, loved, and desired for who I really am, not for some polished, edited version of who I think I should be.
Yes, it's a tremendous risk to expose the truth about who you are; to allow yourself to be "naked and unashamed." If there's one thing I've learned from my experience these past few months though, it's that the risk is more than worth it.
I understand that not everyone is going to have the opportunity for a relationship do-over, but please don't believe this level of intimacy is out of reach for you in your current situation. Even if you can't bring yourself to be honest about your struggles, fears, and failures with your spouse at this point, I would encourage you at least to be honest about them with God.
I promise you that no matter what, He will love you and accept you just as you are, regardless of any baggage you bring with you. With Him, you always get a do-over. (Tweet This!)
Do you feel like maybe you've blown it in you marriage and lost any hope of TRUE intimacy? Learn some ways you can help build REAL intimacy and start enjoying a better sex life in our new workshop  "Best Sex Life Now."  Signup today.

Can You Get an Intimacy Do-Over? by Stephen Kuhn is licensed under a Creative Commons Attribution-NoDerivatives 4.0 International License. Based on a work at https://xxxchurch.com.