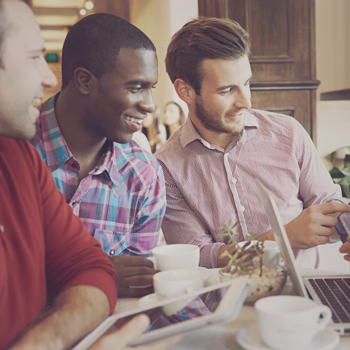 Here at XXXchurch we constantly push the idea that freedom from addiction or pain in our lives requires others to walk alongside us. There is a really good reason for this! You've probably spent so much time trying to fix this problem on your own that the only possible solution is to allow someone else in for once.
Shining the light on the darkness, a popular idea among many Christians, is about bringing others into our stories with us, refusing to listen to shame and lies and having someone guide us into a better way of living.
So we join communities like X3groups and open ourselves up to the guidance of someone like an X3coach.
Having a coach/mentor/guide/teacher is important for many reasons, but here I want to describe three that I believe can act as foundations for you to find freedom.
1. Mentors have walked the walk
When you are addicted, you very quickly become unable to see where you are going. Think of all the times you've sat in front of a computer or smartphone vowing never to look at porn again, only to return the next day. We become unable to see the pain we are trying to medicate or the same old patterns we follow and can only hope to fumble around in the dark to find the light switch.
With a mentor, though, you have someone who has gone before you and experienced the same things. Someone who knows all the signs and has come through on the other side. They will know exactly how it feels to want to give up. They will show you how to discover the wounds you are seeking to medicate through porn. They won't judge you but will offer grace.
Why? Because they understand that you've judged yourself enough already.
And a mentor will have the wisdom that can only be gained from having been there before. Tapping into this with someone is crucial.
[ctt title="A mentor will have the wisdom that can only be gained from having been there" tweet=""A mentor will have the wisdom that can only be gained from having been there" – http://ctt.ec/1kiwo+ (by @PaulRobinson33 @X3church)" coverup="1kiwo"]
2. Specifically for You
There are many great resources out there for someone who is trying to find freedom, but sometimes it's difficult to know how all the theories and ideas will work for you. What works for one person may not work for you, and attempting something you aren't ready for or that won't fit your personality can be extremely harmful.
Which is where a mentor comes in. A mentor will spend time listening to your story—including all the hurt, pain, disappointments, hopes, and dreams—and will get to know you. The real you.
That takes work from us of course. It requires us to perhaps let go of some of the ideas that we've tried so many times but that haven't worked. It requires us to put our trust into someone.
But that trust will be completely worth it when you can work out a plan together that is suited to you and your specific areas of recovery and freedom. Maybe you've tried accountability or read the "right" books, but have failed on some level. You're still stuck. One of the reasons is that you haven't had someone experienced, who has the know-how to tailor all those ideas into practical ways that serve your circumstances.
A mentor will fix that. They will help you finally see how this all works together for you and give you the resources that you need, not someone else.
[shortcode-variables slug="mypilgrimage-inline"]3. Going deeper
It's important to know that a coach or a mentor is not a therapist. But they are a teacher and a guide. I believe the main reason most people don't find total freedom from their addictions is they haven't done the difficult work of seeing that porn is not their problem, but merely the medication.
Now for some that might seem counterintuitive. How can the one thing that we sometimes spend more time doing, more than even time with our families and friends, not be the problem? Simple. It's what we're using in an attempt to deal with our real problem.
Things like stress, anger, feelings of shame, of low self-esteem. Even those things are symptoms of something deeper. Getting to an understanding of what is breeding those things will be the difference between control and true freedom.
Your mentor will have done this hard work themselves and will know exactly how to guide you through that work.
That may be through digging into why stress causes us to want to masturbate, or showing you how to deal with removing the anger that resides inside you.
It will require you to go to places you may not even know existed, and it will be hard. But you're not alone in it. Your mentor will be there every moment of your journey. It's not just possible, it will happen if you are ready and prepared to give it a go.
So a good mentor will help you get out of the old routines that have not worked for so long and they will ask you to do some work. But I promise that if you are open to healing and are willing to allow someone else in daily, you will find freedom.
It's just a matter of whether you want it.[shortcode-variables slug="x3-coach-bottom-ad"]