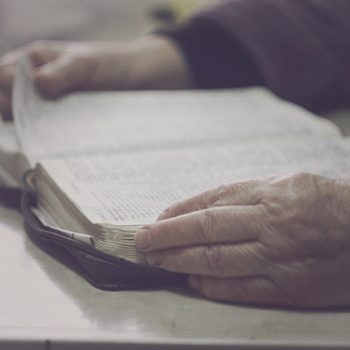 One of the criticisms the Bible often faces is that it's not relevant to society today, that it has no bearing on how we handle the challenges in front of us. But most Christians know that Scripture is "breathed out by God and profitable for teaching, for reproof, for correction, and for training in righteousness, that the man of God may be complete, equipped for every good work" (2 Timothy 3:16-17).
This means that every single word in Scripture is inspired by God Himself and has application in every area of our lives. Several places speak specifically to how we handle our thoughts.
Here are three pieces of advice we find in scripture:
1) Scripture itself is helpful for dealing with our thought lives.
Psalm 119:9 & 11 read, "How can a young man keep his way pure? By guarding it according to your word…I have stored up your word in my heart, that I might not sin against you."
The key to winning the battle of your thought life is to know that the Bible is a fully-capable weapon. Ephesians 6:17 refers to the Bible as the "sword of the Spirit," a weapon for use against fighting the "present darkness…the spiritual forces of evil in the heavenly places" (Ephesians 6:12). How does this work?
The author of Psalm 119 says he stores up God's Word in his heart to help fight sin. He knows it, trusts it, believes it. Because of this, he can recall it to his mind and turn away the negative and sinful thoughts with truth. Truth is always more effective than lies, and brings more joy and confidence in the fight. By knowing truth, we know that we are thinking rightly and pursuing the right things.
[shortcode-variables slug="accountability-pdf-inline"]2) Change our minds to think about the right things.
Philippians 4:8 says, "Finally, brothers, whatever is true, whatever is honorable, whatever is just, whatever is pure, whatever is lovely, whatever is commendable, if there is any excellence, if there is anything worthy of praise, think about these things."
Sometimes when faced with negative or sinful thoughts, we need to change our minds to think about the right things. And in Philippians 4:8, the author Paul gives us a good list of things to think about: things that are honorable, true, pure, commendable, worthy of praise. We have to practice and grow more competent in switching our thought patterns when negative or sinful thoughts begin their attack.
So instead of following the trail that the initial lustful thought opens up to you, turn your thought processes to something better. Maybe it's that Scripture you've hid in your heart. Maybe it's your love for your spouse, the one you chose and promised before God and man that you would love and protect. Instead of following the trail of negative thoughts about yourself that just aren't true, remind yourself of what is true.
3) Think forward when we've made a mistake.
Philippians 3:13b-14 says, "But one thing I do: forgetting what lies behind and straining forward to what lies ahead, I press on toward the goal for the prize of the upward call of God in Christ Jesus."
Prior to this, Paul talks about how he was far from God, but then came to near to God. He then says that he doesn't let his past drag him down. Instead, he strains forward to the future, he moves on. He presses on towards obedience, following God. He doesn't let the thoughts and doubts from his past hold him back.
Sometimes when I've stumbled in my thought life, I've let my frustration over the sin do two things. First, I begin believing lies about myself, that God doesn't love me anymore, that I'm a failure. Second, I make myself more vulnerable to slipping again. I've already messed up, I reason, so why not just do it again? Knowing what the Bible says about how I should process those things, to move forward in instances of slip-ups, can help me do better the next time.
The Bible is incredibly helpful in how we deal with our thought life, in how we battle negative or sinful thoughts. We've just got to know it, believe it, and apply it.
After all, that's why we have it.
[For another viewpoint on this important topic, check out Does Memorizing Scripture Actually Help Maintain Purity?.]
[shortcode-variables slug="x3groups-bottom-ad"]