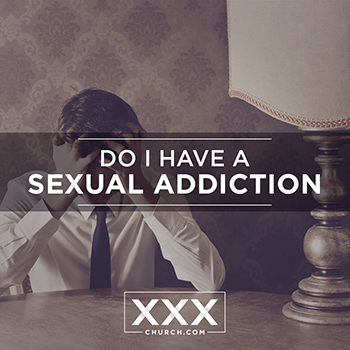 I watch Internet porn all the time… but am I addicted?
I have sex with my girlfriend most of the times we go out… is that a sexual addiction?
I masturbate almost every day, but I feel bad; that wouldn't be a sexual addiction, would it?
I'm not sure the diagnosis or the labeling of a "sexual addiction" is the very helpful.  What is important is:
1) Do I realize I have a problem?
2) Do I realize how serious the problem is?
And then…
3) What am I going to do about it?
JEFF'S BASIC DEFINITION OF SEXUAL ADDICTION
You've tried to stop your bad sexual behaviors 100x and keep going back 101x. 
That may be all you want to know to recognize that you have a problem and can't stop.  You're starting to realize that you're best efforts haven't been able to stop your sexual behaviors long-term.
DR. MARK LAASER'S FIVE INDICATORS OF SEXUAL ADDICTION
I think Dr. Laaser (an expert in the field of sexual addiction) nails it when he says a sexual addiction shows the following patterns:
Repetitive – You keep coming back to it over and over
Degenerative – You get worse over time.  You need more of the behavior to get the same effect.
Unmanageable – You're losing control.  The behavior is controlling you.
Medicative – You use sexual behaviors to alter our mood, bring you up, calm you down, or numb pain that's inside.
Destructive – Your behaviors are starts affecting your life, your relationships, your productivity.
Wanna go deeper?
DR DOUG WEISS' SEXUAL ADDICTION TEST
Dr. Weiss (another authority in the field) has put a simple test together for us. You can take it here.
—
I think it's important to understand a few more things about sexual addiction.
AVERAGE PEOPLE CAN BE SEX ADDICTS
The Media would say a sexual addict is person only having multiple affairs…  The guy who peeps in windows and rapes women….  The guy in a trench coat exposing himself in a parking lot….
These are only the extreme examples.  Lower your bar and deepen your understanding of who sex addicts are.
Average men and average women have sexual struggles.  People like you and me.  Teenagers.  College students.  Young professionals.  Ministers.  People with messed-up backgrounds and people with stellar backgrounds.
YOU DON'T HAVE TO BE HAVING SEX TO BE ADDICTED
Many sexual addicts are not having sex or having affairs.  Instead, they spend hours in front of a computer.  They masturbate every night before they go to bed.  They constantly watch sexual movies.  They regularly go as far as they can with their girlfriend or boyfriend without having "literal sex".
SEXUAL ADDICTION IS NOT AN EXCUSE
If you feel you have a sexual addiction or have been diagnosed that by a doctor, so what?  You're still responsible for your own behaviors.  You can't blame your past, your parents, your girlfriend, or society for making you this way.  At some point you have to own it.  That's a beginning point to getting better.
YOU CAN BE FREE FROM A SEXUAL ADDICTION
We don't have to be out of control.  We don't have to be a slave to our sexual behaviors.  We can be holy and pure as God has called us to.
I don't believe the adage "once an addict, always an addict".
God does not wake us up to our sexual addiction to stick a label on us or shame us.  He wants us to realize we have a problem, and it's a serious problem.  He helps us realize the truth so that we will come to Him and seek our freedom.
Q:  What do you think about sexual addiction?
Q:  What are some other indicators that a person may have a sexual addiction?
Q:  Do you believe "once an addict, always and addict"?  Why or why not?
Accountability is a key component in recovery. XXXchurch.com offers two options for accountability.
X3 Groups is a online based group that meets weekly at the same time offering personal accountability with others. This is an option if you are unable to find someone in your area that will offer this help.
X3 Watch is another option that goes hand in hand with the X3 Groups and any accountability. This is a program that can be placed on either your computer or mobile devices.
Jeff Fisher lives in Raleigh, NC.  He and his wife run the site www.porntopurity.com, a site designed to offer hope, encouragement and resources to those who are affected by sexual sin.  Checkout Jeff's podcasts on I-Tunes:  Top Tips For Sexual Purity, Top Verses For Sexual Purity, and For Ministers Who Struggle.