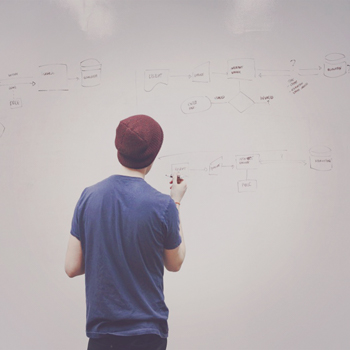 My friend Craig just asked me to write a blog about learning, quitting, and being pushed. When I first saw the email I wanted to write this back to him.
"Dear Craig, I'm not a writer nor a blogger, have one of your famous writer friends do it, I have work to do and this is a waste of time. Please take my email off your list and never send me another email again asking to write something. –Love, Dave"
But then it hit me. I'm a freaking lazy bum sometimes at trying new stuff. I know exactly why he asked me to write it. I'm kind of embarrassed but heck, I'll share it, anyway: Craig's my friend and boss, and at times the pendulum swings to one side more than the other. Sometimes he pushes me more than I like.
Here's the story: I tried quitting my job recently because I didn't like how Craig wanted me to learn new things, think a different way, and reach out of my comfort zone. To be honest, I don't even know if Craig wants me to succeed or not—he just wants me to try. But the thought of failure causes me to not want to try at all, even though I know knowledge comes from failure.
Here are three things I've learned about learning (and quitting).
1) Learning is Intimidating. I much would rather succeed in the areas where I am already knowledgeable than look like a rookie in an area undiscovered. That's why it's humbling to go back to college, pick up a new book, or to go to counseling. Years ago, I cried my eyes out during a counseling session with my wife, mostly because I was intimated of what she expected of me and my inadequacies. Looking back now, it's the best thing that's ever happened in our marriage. Learning is tough.
2) Quitting is easier. We all get it, that's why I came close to quitting my job at XXXchurch. Quitting is much easier than learning. I think that's why people cry when they win a championship or take first place, because a lot of the time, quitting has probably crossed their minds, so winning something is such a relief at actually attaining a goal.
[ctt title="Quitting is much easier than learning" tweet=""Quitting is much easier than learning" – http://ctt.ec/jsmby+ (by @X3church @DavidVahey)" coverup="jsmby"]
3) Most people don't want you to grow. Craig Gross and Ryan Russell actually want me learn, fail, grow, and succeed, like all good bosses should. They put pressure on me to learn, perform, and grow, no matter the result, with hard deadlines. Most of the stress and pressure actually don't come from them, though—they come from my own insecurity of failing or coming up short on a project that had high expectations.
Learning does stink sometimes, and quitting is always the easy road, but when I look back, my life was changed the most when I kept at it and learned the most. I learned about why I wanted to look at porn, why my marriage was a wreck at times and why my own insecurities actually held me back from learning something new.
But in the end, learning always brings freedom. Quitting just brings more of the same.[shortcode-variables slug="my-pilgrimage-bottom"]