In 2002 XXXchurch did the unthinkable. They rented space at the annual AVN Adult Entertainment Expo in Las Vegas, set up a table, brought in some Bibles, a couch, and declared the crazy message that "Jesus Loves Porn Stars."
What self-respecting Christian organization would set up shop in the middle of an actual porn show, amongst the many consumers, barely dressed performers, and a multitude of sex toys to reach people with the salvation message? Such a foolish act feels like "sacrilege" and maybe even "blasphemy." No "real Christian" would ever do such a thing.
Or that's the message that we've heard from many over the years.
From 2002 to 2019 XXXchurch has sent over 100 mission teams to various porn and sex shows both in the United States and internationally.
We've conducted outreaches to Vegas, Miami, Dallas, Chicago, LA, New York, New Jersey, Washington DC, Ohio, Canada, the UK, and Australia. 

We've recruited and trained 100's of volunteers who served with us on these outreach efforts.

We've distributed 10's of 1,000's of Bibles with the infamous Jesus Loves Porn Stars logo on the cover.

We've printed and handed out 1,000's of T-Shirts saying the same thing.

We've plastered Jesus Love Porn Stars on too many people to count. 

We've confronted countless "Christian" protesters at these events to show them their approach is unproductive and decidedly anti-Gospel. 

We've been there for multiple porn actors, actresses, and strippers who have approached us for help and advice when seeking to change their life's direction.
And why? 
For the same reason, we also have conducted 100's of porn debates at various universities, openly discussing the problems associated with porn and how it erodes relationships and often leads to addiction.
Because XXXchurch has always been an organization that seeks to build bridges and not burn them.
I was the guy who ran many of these outreach efforts. Over that time, I built many great relationships with both performers and show producers because of that philosophy — a philosophy of mutual respect and love.
And yea, some Christians have a hard time with that. How can I call a porn star who's in theory working "against" my efforts an actual friend? Because their "agreement" with my views is not a condition for my acceptance and friendship. 
I posted this on Facebook about 3 months before I left XXXchurch for the second time. These photos are from the last outreach effort I led for them—this kind of sums things up.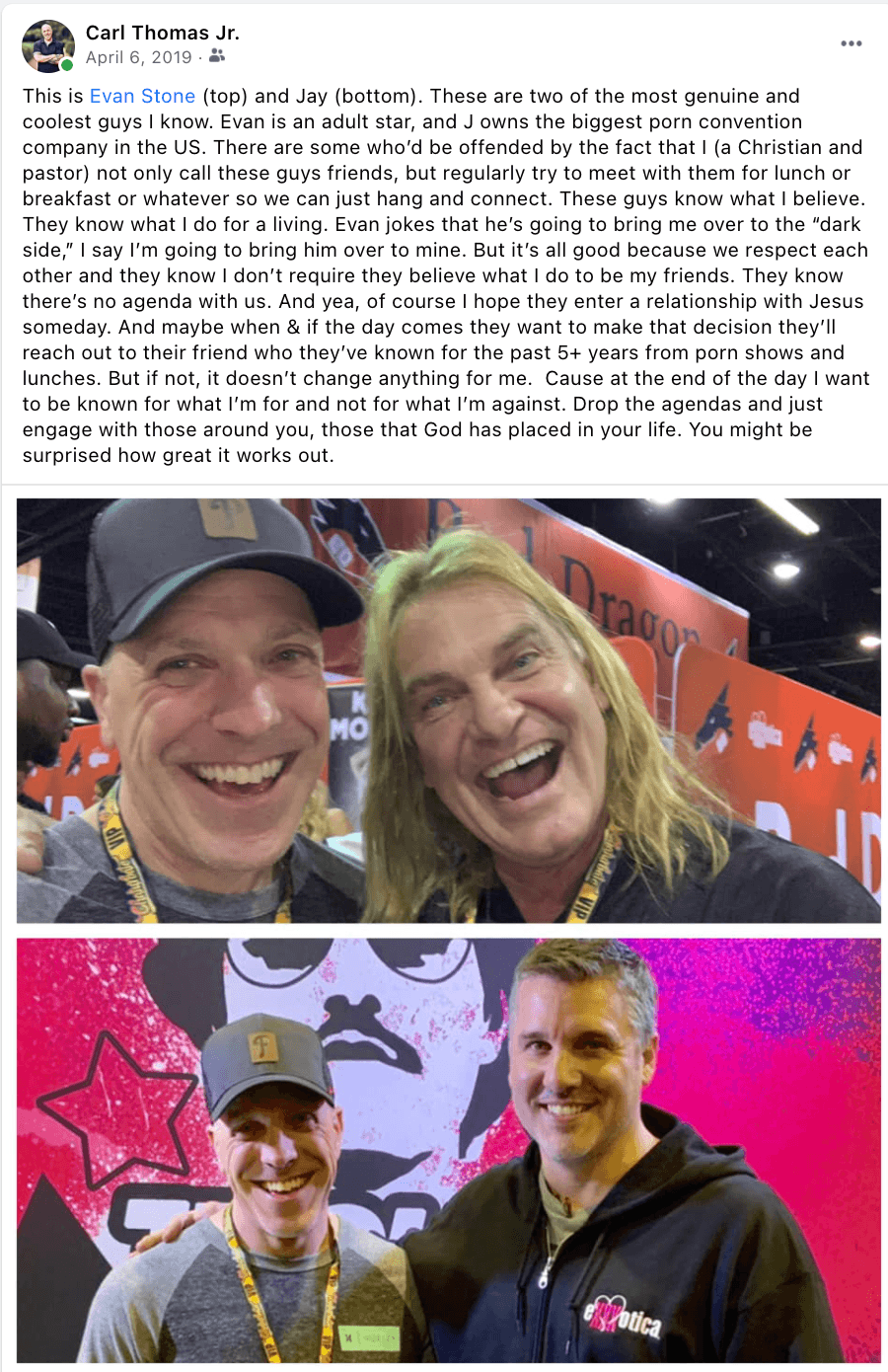 Understand we've always sought to love people as they are without an agenda to convert them or "correct their wrong beliefs."
We've always wanted to have a conversation with people more than win an argument.
And today nothing about that has changed.
Admittedly, while the mission aspect of the ministry has caught the most media attention, it's always been a very small part of what we do. And when COVID hit, XXXchurch went into a bit of a holding pattern, which suspended our outreach efforts to the sex industry.
In 2021 when Live Free acquired XXXchurch, we decided to focus on the recovery and support side of the ministry rather than the industry side. For this reason, we haven't gone back to any conventions (as of yet). 
However, our goal is still the same, whether engaging with the porn user, the porn star, or the family impacted by porn.
We want to be here for people who wish to have a conversation or need answers and help.
We aren't worried about your theology.
We aren't concerned with your orientation or sexual identity.
We aren't here to lecture you on your choices of profession.
We aren't withholding our acceptance of you based on your worldview.
We just want to be here. For you.
No catch 22's.
No conditions.
No terms of surrender.
Because Jesus Loves Porn Stars, and he loves everyone else too.