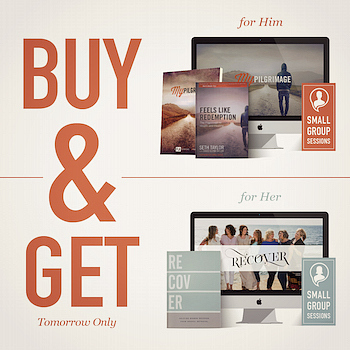 Okay, so…tomorrow's the big day.
We – myself and a small team of our guys out here in California – have been busy at work on the final touches to make sure the first (and last – at least this year) My Pilgrimage experience is everything we want it to be… and everything you need it to be.
We're all set up and ready to go – just making sure that we can handle everyone who has been looking forward to My Pilgrimage all at once when we make the experience available tomorrow.
On that note, though, I've got one more thing to add: we decided to give away something extra when you join My Pilgrimage tomorrow.
We know that porn addiction doesn't just affect the men who struggle with it. Oftentimes, women suffer the full brunt of our addictions in equally painful ways – and the relational consequences can be devastating. That said…
I'm excited to announce that – for tomorrow only – if you join My Pilgrimage, we'll also give you a brand new experience called Recover which we've been developing specifically for women who are working to recover from sexual betrayal.
Recover is brand new. We've literally never told anyone about this resource before today (and we weren't planning to until next year), but here's the thing:
As a ministry, we've worked incredibly hard to help everyone – both men and women – work through pornography addiction, but we realize that the emphasis often lands on the guys. Up until now – for fifteen years – we've never had a resource available specifically for women who need help working through the kind of sexual betrayal that Recover addresses.
We are so excited to make it available to you and your loved one – for free – when you join the My Pilgrimage experience tomorrow.
Just like this journey, Recover is a fully immersive experience that includes hours of testimony and conversation between women who have been through hell and back because of their husband's addiction to pornography, including a 11-video course series on just how your wife can walk through the same and understand her identity as beautifully and wonderfully made again.
We weren't going to release Recover until 2017 but if you join My Pilgrimage tomorrow, we'll give it to you before the end of the year, along with the brand new, accompanying book – Recovered By Hope – with workbook and 3 free months of our women's Recover Small Groups Online.
When we release Recover to everyone next year, it will be the exact same price as My Pilgrimage, so if you think you, your wife or someone you both know – married or not – would benefit from something like this…
tomorrow will be your only chance to get it early… and free.
Click below to watch the official introduction to Recover: Helping Women Recover From Sexual Betrayal.
On another note, I'm planning on reaching out once more later today with a message specifically for the women who might be interested in Recover.
I hope that – for the women – you will take comfort in knowing that we love and care about you and there are others who have experienced the anxious fear of what can feel like more of a prison than a marriage or special relationship.
And I hope that – for the men – perhaps we can help you bring your desire for freedom into the light with this opportunity to love your significant other well, and love her first, and love her only.
[shortcode-variables slug="my-pilgrimage-bottom"]