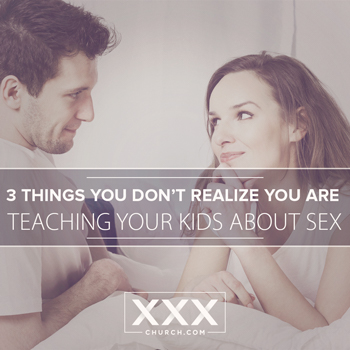 Next month, I'm going to be talking to a room full of high school juniors and seniors about sex. Hey, I'm happy to do it, but I'm going to tell you the same thing that I told the facilitators: I'd much rather be talking to their parents. Well, actually I would rather talk to their parents first and then the kids.
It's not for the reason that you might think.
It's not because I want to let the parents know how to deal with the ever-curious minds and even more raging hormones of their teenagers. No, I want to tell them that the biggest influencers of sex and sexuality to kids is the example set by their parents. (Tweet This!) I can't tell you how many times a young person has told me that either A) their parents do not talk to them about sex or B) when they talk, all they do is try to scare them into abstinence.
And so, in order to make sure that your sons and daughters get the best shot at having a healthy sense of self-worth as a single person and also a healthy sex life once they're married, I just wanted to share a few things to think about. You're teaching your kids about sex whether you realize it or not. Here's how:
How affectionate are you with your spouse?
I recently had a conversation with a husband about how much trouble his marriage is currently in. He said it was a real wake-up call when one of his sons asked him why this husband and wife slept in separate bedrooms. Look, wearing matches suits to church or telling people who call you on the phone that your marriage is awesome ain't gonna fly if your kids witness a totally different message at home. Do they see you and your spouse cuddling on the couch? When's the last time they noticed the two of you holding hands or giving each other a peck on the lips?
Unless they are babies or toddlers, there's nothing wrong with them trying to get into your bedroom on Saturday mornings only for the door to be locked. When you're affectionate with your partner, when you're not "scared" to let your children know that you do engage, it sends the message that sex, within marriage, is safe, healthy, and oh so right. (And it is!)
How open are you with your children about sex?
If you're someone who finds yourself wondering how old your kids should be before you talk to them about having sex, I'll reply by saying two things.
First, thanks to porn and other sexually toxic influences, children are learning about sex through all kinds of influences and devices.
Secondly, as my mama used to say: "If you're old enough to ask the question, you're old enough for an age-appropriate answer."
Personally, I don't think it could hurt to have the New Century Version of Malachi 2:15 hanging up somewhere in your child's nursery or bedroom: "God made husbands and wives to become one body and one spirit for his purpose—so they would have children who are true to God. So be careful, and do not break your promise to the wife you married when you were young." But whether you choose to introduce two of the main purposes of sex (oneness and procreation) this way or not, be prepared to have open and honest conversations with your children–when they're ready; not you. (Tweet This!)
Sexuality and spirituality should not be seen as separate things. In fact, a part of our spirituality is our sexuality. You wouldn't tell a child they're too young to learn how to pray or hear a Bible story, right? What's wrong with talking to them about God's purpose for sex? Again, at a level they can understand it. When you're open about sex, you're teaching your kids that sex is nothing to be afraid of or ashamed of. And it's not.
Do you tell your kids the truth about sex?
All of us make mistakes.
A lot of us made sexual mistakes.
That said, you're not doing your kids a bit of good to tell them that you waited until marriage when one or all of your kids are in your wedding photographs. Regardless of what your motives are, lying to your children about sex ultimately teaches them to do the same thing.
Bottom line, if you want your children to be honest with you about sex, you need to return the favor. (Tweet This!) Tell them the truth. Discuss God's will for sex. Share with them lessons you've learned along the way. Sure, a 12-year-old needs a different level of information than a 16-year-old does. But the main point is: sex should not be seen as a dirty thing that needs to be hidden like some dark secret. Sex is a beautiful expression of love that deserves the honor and respect of being presented truthfully and genuinely. Present it as a dirty temptation and your kids will see it that way. Present it as a gift from God, they will embrace it that way instead.
You're the parent. Choose wisely.
---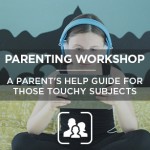 Parents, don't be afraid to tackle sex and other touchy subjects with you children. It may seem hard but you are doing the best thing for them and setting them up for success. Need help getting the conversation started? Check out the Touchy Subjects workshop and video series. Get practical advice and instruction from two dads who've been there.