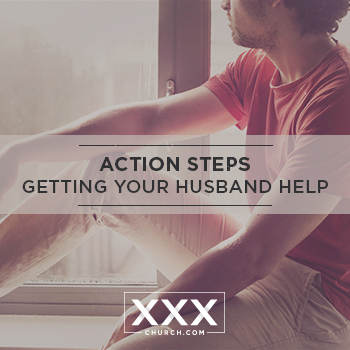 Your husband does not want to seek help. What Now?
This question can really be interpreted two ways.
1) Your husband wants to quit looking at porn, but he's going to do it his way and he doesn't want to seek outside help. (That may include help from you, his wife.)
2) Your husband doesn't want to seek help because he doesn't think he has a problem and sees no reason to make any changes.
The first interpretation creates challenges, but is not insurmountable. The second interpretation stinks for the wife who wants a husband who is faithful in his thoughts and actions. Let's tackle what to do in each scenario.
So, your husband seriously believes he can "stop looking at porn any time" and believes this is the time. That's terrific!
If you are aware that your husband is struggling with pornography, you need to be able to answer YES to the following questions if the two of you hope to take care of this without seeking professional help:
1) Do you and your husband communicate openly and regularly about the pornography use?
2) Is your husband taking these obvious actions to stop the use:
Is he utilizing filtering and accountability software?
Is he meeting with a an individual or group of individuals who will hold him accountable?
Does he share passwords and account information with you?
Is he forthright about all credit cards, and there are no unexplained expenses?
Can you say that he never erases the computer history?
Is he participating in an online or book study that helps him understand his intimacy issues?
3) Are you demonstrating that you are …
Taking care of yourself?
Communicating openly with your husband about how you are doing and what you need from him?
Not being a tally keeper – keeping track of rights and wrongs?  [Here's a little advice from a friend who has been there: You need to give up your need to be right.  Psalm 130:3-4 says, "If you, LORD, kept a record of sins, Lord, who could stand? But with you there is forgiveness, so that we can, with reverence, serve you."]
Participating in online or book studies that help you understand the addiction, understand your response to the addiction, and learn about your own intimacy issues?
Learning and accepting that you can't control your husband?
Here's the deal … if you aren't able to confidently answer these with a "Yes!" and you don't see evidence that he is making good choices, then it is absolutely necessary to seek professional and/or pastoral counseling. If he's serious about tackling this issue in his life, then I encourage the two of you to make these parameters the criteria for "not seeking (professional) help." However, you will need to agree that if these don't happen, you will get yourselves to someone who knows how to help you through this.
Do we have a deal?
Here's the bad news … if your husband is unaccepting of responsibility, unremorseful, unrepentant, unwilling to stop his addiction, and doesn't want your help or anyone else's help because he's not about to make changes, then you have some decisions to make.
I'm sure you've figured out that YOU CAN'T CHANGE YOUR HUSBAND. That's a really unfortunate reality. In the end you are only responsible for yourself and the choices you make. What you can do is focus on the healing of your broken heart. I wrote When Your Husband is Addicted to Pornography: Healing Your Wounded Heart because I knew there were countless women who needed restoration of their hearts regardless of their husband's daily choices. Get yourself a copy.
It's this simple—cancer, cardiac disease, flesh-eating skin disease … these are all conditions for which you would require professional care. You wouldn't try to "get over it" on your own. Neither would you ignore it. Continued use of porn damages your husband's relationship with you and with God, and it sabotages his ability to be a godly father to your children. Likewise, if there is absolutely no sexual intimacy, extremely limited sexual intimacy in your marriage, or if your husband's choices are endangering your family financially, you should seek counseling immediately (even if it's without him).
If your husband insists on swimming in the shark infested waters of pornography, he is unrepentant, and unwilling to seek help, then a separation and perhaps even divorce may be necessary, especially if his behavior escalates to more perverse forms of sexual addiction or if he is endangering himself, you, and your children. This is a decision that will need to come after much prayer and counsel from your pastor and or Christian counselor.
Note: Vicki Tiede is the author of When Your Husband Is Addicted to Pornography Healing Your Wounded Heart.