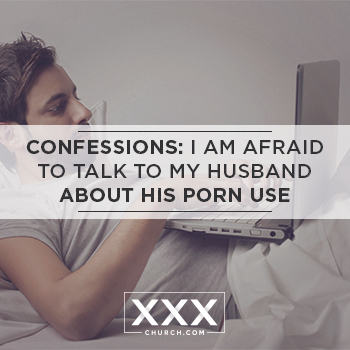 Read the above title?  Is this your issue?  If so….YOU HAVE TO DO IT!  In my first marriage, I never even thought about my husband having a porn issue.  I have never seen porn….and it is the furthest thing from my mind, so I (wrongfully) assumed his too!  I remember when xxxchurch came and spoke at a church we attended and I asked my husband, "do you struggle with porn?" He quickly said "no".  I believed him.  I only later found out that he had a HUGE porn problem!  Praise God for xxxchurch getting the conversation going.
Fast forward……
When my current husband and I were dating, I was very honest about this subject.  Heck, I think it was on our first date that I laid it all out there and asked what his porn experience was and how often he viewed it.  I went from assuming people were like me and did not see it to assuming it was part of their lives.  He was VERY honest with me and we regularly check in about this topic.  We also have the xxxchurch software on our computer to make sure we keep it all on the up and up.
I will save all the gory details of what went down with my ex and what happens when we do not deal with porn use head on.  DO it.  Your marriage is worth you overcoming your fear and asking, boldly and bluntly.  Porn is cheating.  Would you want to know if your husband was physically with other women?  I would…I did!  It is heart breaking, but there is HELP!!!!  Ask God to help you overcome your fear and for HIM to prepare you for any answer you might get.
You need to talk to him about his porn use.
You need to bridge that conversation.
Trust me, it is better to know than to think that all is fine just to have your world come crashing in!