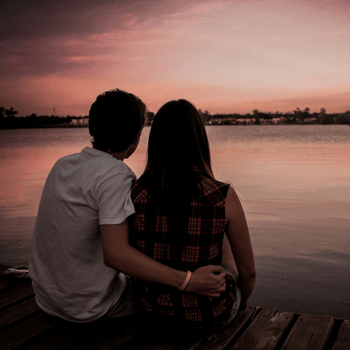 Webster's defines oxymoron as "a combination of contradictory or incongruous words."
Here are a few of my favorite:
Freezer burn, pretty ugly, loose tights, soft rock, numb feeling, minor crisis, only choice, growing smaller, random order, jumbo shrimp, and quite possibly the most wickedly ingenious phrase ever devised by evil marketers and foisted upon unsuspecting consumers like us: shop 'n' save.
I doubt you're aware of it, but your wife has a favorite oxymoron. It's even more intriguing to her subconscious mind than the aforementioned shop 'n save. I talk to married women across the country and it's abundantly clear.
The oxymoron that revs their engine most is this one: Alone together. It's also what your marriage needs more of. Time. Just the two of you.
No kids. No distractions. No laptops. No dishes in the sink. Just the two of you.
Alone. Together.
A friend of mine vacationed in Europe with his wife this summer. Three whole weeks. Just the two of them. I saw him recently and asked, "How was your trip?" His answer is what prompted this post. His answer is what got me thinking about oxymorons and missed opportunities. He said:
"I didn't realize it, but it's what our marriage desperately needed. English isn't spoken in the villages we visited, so we literally had no one else to talk to. It was like God set us up! We talked about everything. We shared everything. There was more touching, more laughing, more lovemaking, more handholding, more affection…it's the closest we've been in years. Months later, we're still enjoying the afterglow of those three weeks."
That brings us to you.
You may not have the luxury of a three-week European vacation, but you do have 30 minutes to take your shoes off, hold her hand, and walk on the beach this weekend. You do have $20 for a few drinks at the local watering hole. You might even have $400 for a few nights out of town.
With a little initiative and effort, there's something you can do to feed your marriage. Have you held it up to a mirror lately? It's probably looking a little lean. And like my friend discovered, just-the-two-of-you time could be what it's starving for.
[ctt title="With a little initiative and effort, there's something you can do to feed your marriage." tweet="'With a little initiative and effort, there's something you can do to feed your marriage.' – https://xxxchurch.com/spouses/her-favorite-oxymoron.html (by @X3church @jeffborkoski)" coverup="l0Yb6″]
So, when you pitch your wife with a walk on the beach, or drinks this Friday night, or even a brief jaunt out of town, remember to use her favorite oxymoron: "Wouldn't that be fun? Just the two of us. Alone together."