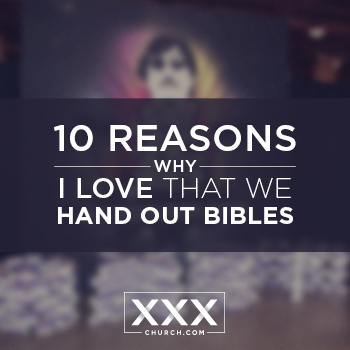 You may already know this, but when XXXchurch goes to porn shows, we hand out Bibles that say "Jesus Loves Porn Stars". I've been to tons of these shows and handed out countless of these Bibles. Here are 10 reasons why I love doing it:
1.  It's the one thing I know that is alive when we hand it out. This is the most Christian thing I will say in this list, but it's true. When we hand out the word of God, it's alive and it changes lives.
2.  The word of God is much more eloquent than I am. (Tweet This!) I may stumble over my words, but the encouragement that is inside these little books has changed the lives of the people we meet.
3.  The stories of people who have had personal connections with our ministry are incredible. You see the heart and power of what God is doing through the ministry of XXXchurch. It's so much bigger than just us.
4.  It's the most amazing conversation-starter. We constantly have to say, "This is a real Bible, and yes, it's really for free." It blows people away.
5.  People come back and say they actually read the Bible. And so many people come multiple days to the convention, so we see the same people, and really get to know them.
6.  A woman named Stephanie who got a Bible years ago, who still has it ten years later. You can watch her story here.
7.  I feel a confidence in handing them out, because I know that they hold truth and love.
8.  People love them. They love free stuff. And if it can be a Bible, then why don't we have more of them?!!
9.  They're easy to slip into convention bags that people carry around with them. Bahahaha! One of my favorite games to play on the floor.
10. T-shirts are great. The lip gloss we give out is also great. But I never want to be at a convention without these Bibles on the floor. (Tweet This!) I know God is honored by the work we do with these.
We're currently raising the funds to pay for 30,000 of these Bibles so we can get them in the hands of men and women who desperately need the truth found within. If you'd like to help us reach our goal, please visit DonateBibles.com.
---
Want to find out more about the Donate Bibles campaign? Check out the latest episode of Craig's Car Ride where Craig talks to special guest Jake Luhrs of August Burns Red.