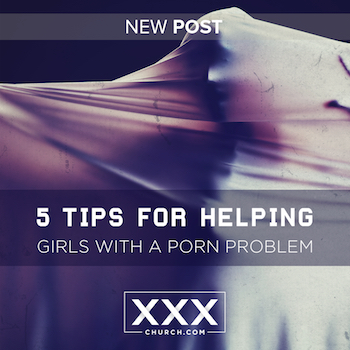 As someone who happens to get a significant amount of emails sent to XXXchurch forwarded my way, I can personally vouch for the fact that young women are battling with porn more than ever. (Tweet This!) In fact, it might surprise you that most of the people I hear from are either married women or girls who are still virgins.
Perhaps we'll get into why so many married women are watching porn at another time; for now, let's explore what's up with the young girls these days.
Let's start off with how the girls are struggling with porn. Yes, many watch it on their computer or smartphone (and masturbate to what they see).
– Some are doing this because they feel like they're "technically not having sex" while still getting a sexual release.
– Some are doing it because they have significant body issues; meaning, the sex that they're watching is a by-product. They actually envy the way the porn actresses look.
– Some are a lot more sexually active than their parents would ever want to admit or accept and so they refer to porn as their "tip guide" on how to perfect certain acts.
– And still there are some whose family environment is so freakin' chaotic that it serves as an escape and a stress release for them.
But there's one more category: those who are battling with porn not because they watch it but because they are making it. According to Enough.org: "20 percent of teens have sent or posted nude or seminude photographs of videos of themselves." 
Personally, I'm willing to bet good money that there are a lot more than that doing sexting and honestly, although there are many teenage boys who (foolishly) take pictures or videos of sex acts, there aren't a lot of them sending nude/seminude stuff about themselves. That's the girls' department.
This means that when we're exploring the topic of how we can support girls and their struggle with porn, we've got to get out of denial and accept the fact that this means that "the struggle" does not only consist of the young ladies who are watching porn, but the ones who are also playing porn actresses themselves—whether they realize it or not.
All of this really could be a book unto itself but for now, let's hit five tips on how to deal with a girl who has porn as a part of her lifestyle.
Ask her. Just like there are many published articles which indicate that communication is one of the biggest reasons for marital problems, it's also one of the greatest causes of breakdowns between parents and teens too. If your home life basically consists of you doing most of the talking or certain topics being "off limits", there's no telling what's going on in your daughter's room when she walks in and closes the door.
Sex is a part of her culture in a way it was never part of yours simply because things have gotten a lot more graphic and there are many more avenues of access. Whether it's uncomfortable for you or not, Proverbs 22:6 instructs parents to train their children in the way that they should go. In order to assist them in heading in the right direction, you need to know what path they're currently on. That comes by asking them.
Don't freak out. Now when I said "ask her," that means literally addressing your daughter like "So, what's been going on in your world? Is there anything you want to talk about?" not "Are you watching porn? Tell me!" Pretty much every (good) parent wants to believe their child will be exposed to sex for the first time on their wedding night. However, the Message Version of Ecclesiastes 7:18 says that it's a good idea to deal with reality, and the reality is that while virginity/purity is ideal (no doubt), you have to accept that they may have already seen way more than you're ready to handle.
However, freaking out is not going to change it–or help it. Your teen daughter needs to feel like you are a safe place to come to; that, in the same way our Heavenly Father is with us, she can come to you about anything and you've got her back. This means you'll listen, sympathize, and empathize if you can relate to some of what she's going through (and a lot of you can because you remember what it was like to feel sexual pressure at her age) and that you'll still see her as amazing. Remember, she's not the problem; porn is. (Tweet This!)
Set boundaries. I'm a big fan of Henry Cloud and John Townsend. They're authors who specialize in boundaries and John Townsend actually penned a book a few years back entitled Boundaries with Teens: When to Say Yes, How to Say No. That said, if you are aware your daughter is struggling with watching porn or sending nude pictures, remember that you are the parent first and her friend second.
There's nothing wrong with taking her laptop after certain hours or making it a requirement for her to do her online homework in a common area like the living room or kitchen. And contrary to popular belief, no one will die without having their smartphone. In fact, you should make it known that you have the right to take it or go through it at any given time and that if she has a password on it, she needs to share it with you.
A part of what your teen needs you to do is to help her learn how to live responsibly. Boundaries are not a form of punishment; it's an act of love. (Tweet This!)
Talk with her about sex. Look, a lot of the girls I talk to tell me their parents never had a real (REAL) conversation with them about sex. Well, other than "Don't fornicate" along with instilling fear in them about pregnancy, STDs…oh, and hell. Sex is not dirty or wrong or something that should be treated as a shameful topic. (And real talk: a lot of people [of all ages] abuse it because they don't clearly understand the purpose of it.)
Your daughter needs to know that sex is for covenant marriage. She needs to know that she was specifically made for a special someone–someday. She needs to know that porn is not a way to prepare her for sex, but a way to alter her perception of such a beautiful act–one that you fully support her experiencing at the right time and place. She needs to also know if/when you yourself were tempted by or even struggled with sexual temptation.
You're not helping your daughter one bit by trying to look perfect in her eyes. Trust me, she figured out that you were far from that a long time ago. The jig is up.
Pray with/over her. And fast if necessary. Christ himself said in Matthew 17:20-21 that some things only come (ONLY COME) by prayer and fasting. Whether your daughter is watching porn or sending nude pictures, a couple of conversations are not going to break that kind of stronghold. Pray for her and if led, fast on her behalf as well. As her parent, you are called to "stand in the gap" for her well-being. Remember, sexual brokenness is a spiritual issue first. It needs to be dealt with in spiritual ways.
We're praying for you as you seek God on all of this information. 
Keep us posted.
If you are a woman and struggle with porn or sexual addiction there is help. There is support. Check out X3groups now. Get some REAL COMMUNITY in your life.