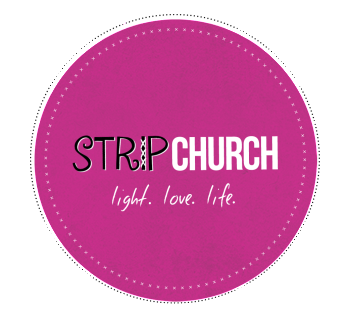 We had close to 20 women come from all over the country-including a couple ladies from Canada!
We always get a variety of women that have a heart for this ministry.  Some are ex-industry, while others have never even stepped foot into a strip club!
This training was unique from our past trainings because we ran it in conjunction with the Exxxotica Porn Convention outreach where XXXChurch set up the famous "Jesus Loves Porn Stars" booth. The first day of training we decided last minute to take the trainees across the street to the convention since it was "ladies night." Taking everyone to the convention was a great way to give them a glimpse into what this ministry is actually like.
The following day we got to hear from Anny Donewald of Eve's Angels.  Anny is the founder and president of Eve's Angels and used to be in the industry.  Her previous experience allows her to share a wealth of insider knowledge and insight.  Anny's heart and passion for relationship building is crucial to this type of ministry, and an encouragement to anyone that gets to hear her speak.
We were so thrilled with how things went this training we are excited to announce that running the training in conjunstion with convention outreaches will be our model moving forward.  We are also very excited to have booked Anny for our next several trainings!  If you missed this last one or just want to check out the new format, check out the Strip Church website for more details on upcoming trainings!