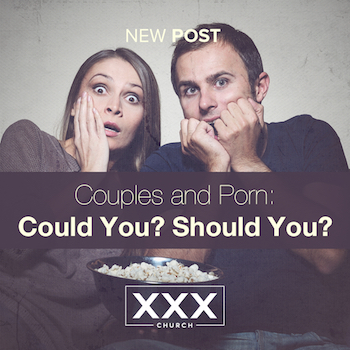 When I checked out Paul's post about couples watching porn together, I saw a lot of good points:
– Churches need to do better when it comes to addressing sex. (Tweet This!)

– Sex should not just be about engaging in an act purely for physical pleasure. Shoot, dogs in heat do that. We really should aim higher.

– Intimacy is about being spiritually and emotionally involved with someone as much as you are physically sharing yourself with them.
And yes, if all of us really made time to focus on these things, hopefully, the question of couples watching porn together would probably cease to be so much of a dilemma. In fact, my bigger question would be, "How can watching porn with your partner benefit your relationship?" Especially being that I Corinthians 7:2(NKJV) tells us "Nevertheless, because of sexual immorality, let each man have his own wife, and let each woman have her own husband." 
Yeah, some folks may wonder what that verse in Scripture has to do with anything. Yet let us not forget (or ignore) that as believers, we are to promote the fact that sex is for married people. Therefore, a part of that scripture speaks to the fact that marriage helps protect couples from sexual brokenness and depravity (including porn).
I once had a wife say to me, "There are times when there are 15 or more people in our bed." Is she a swinger? Nah. She's referring to something else: as the result of her and her husband's porn use, sometimes together and sometimes apart, the images now "haunt" them, especially during sexual moments.
Yep. Just like having sex with other people before marriage can cause you to consciously or even subconsciously compare your spouse to previous partners, so can porn. You can find yourself wishing they looked a certain way. Or acted a certain way. Or did things a certain way. Even if what you're experiencing with your spouse is real and what you're watching on screen is acting. (And that's the case more than most people want to realize!)
Besides, when Hebrews 13:4 speaks of the marriage bed being undefiled…boy, do I wish "undefiled" was defined more accurately! What that word means is "pure." How can your marriage bed be pure with porn all up in it? (Tweet This!) How can you totally and completely embrace and enjoy the living, breathing human being who vowed to have your back in every room of your house if you're lusting after other individuals who know nothing about you and couldn't care less to know you? People who are not tangible, but on a computer or television screen? Porn? It invades the inner sanctum of intimacy between a husband and wife. (Tweet This!) It's a violator. It's a trespasser. And if you give it enough time (or clicks), it can be an intimacy destroyer as well.
I once knew another couple that had seen porn become such a part of their marriage that it played a huge role in them not even having sex the first several months of their marriage. Yeah, it's deep when porn consumes you so much that you end up partaking in it more than with your own partner. Unfortunately, that story is not nearly rare enough…
Don't believe me? Ask some of the couples you know (and we all know at least one) who have porn issues within their marriage about how awesome their sex life is. Shoot, forget awesome. Ask them if it's existent! A lot of them are going to bow their heads and then shake it from left to right.
So look, is porn something that couples can do together? Sure. Technically speaking.
Now is it something that they should be doing together?
I'll put it this way: Does it sounds like God (ahem, the inventor of sex) to be like "You know what? I know I made sex to bring you and your spouse closer together, but it's okay to watch two or more people – who have sex for money and are oftentimes inebriated or under the influence, who don't even really like each other, and who are faking it in the process – if you think it will enhance your relationship. Go ahead. Invite them into your bed."
No. That's not even his style.
One of my all-time favorite Scriptures is Psalm 145:16(NKJV): "You open Your hand and satisfy the desire of every living thing." When the Bible speaks of "each person having their own spouse," when the Message Version of I Corinthians 6:16-20 speak of "sex being as much of a spiritual mystery as it is a physical fact", within the confines of marriage, God had your satisfaction—INCLUDING YOUR SEXUAL SATISFACTION—in mind.
Godly sex satisfies.
Porn is a counterfeit version of pleasure. (Tweet This!)
And just because you can, doesn't mean that you should.
Want to spice up your sex life, but without porn? Find out how to have a HOT sex life without needing the "extras." Sign up for a preview of the new video series "Best Sex Life Now" when it becomes available HERE.

Couples And Porn: Could You? Should You? by Shellie Warren is licensed under a Creative Commons Attribution-NoDerivatives 4.0 International License. Based on a work at https://xxxchurch.com.