Two weeks ago we wrapped up yet another incredible outreach effort that took place at the Exxxotica show in "exotic Edison, New Jersey. (Why Edison, of all places? I'm still trying to figure that one out.)
This outreach boasted our largest team ever, with over 23 volunteers from all over the country and even the world. Fitting, since it was also one of Exxxotica's largest shows to date.
And while I could go into how many Bibles we handed out or t-shirts we printed, I'm not going to. Why? Because the bottom line is this … we reached thousands of people. That's the WIN.
Sometimes we get so hung up on the details looking for small victories (like the number of Bibles passed out) that we miss the bigger and more important picture. Two weeks ago we were able to tell thousands of people that Jesus loves them. We were able to let them see a different side of Jesus and his church. The side that says come as you are. The side that promises grace and redemption vs. rules and condemnation.
Realize that when we do these outreaches, it's all about one thing: connecting with people that God loves. (Tweet This!) Sometimes (and oftentimes) those connections are brief and just serve as a small seed. Other times they go way deeper.
And sometimes they set the stage for the following year. Last year we met a guy named Andrew; this year he sought us out because of last year's conversation and gave his life to Jesus right there in the hotel Starbucks.
The work we do is not always easy BUT it's always rewarding and it always makes an impact. Just not always in the ways we expect.
Read the comments below from a few members of this year's team.
Watch the video.
And then think about joining us on an upcoming trip. Take the opportunity to be the light in a dark world. (Tweet This!)
Why? Because the world is full of Andrews, and they're waiting to hear from you. (Tweet This!)
---
"Joining XXXchurch on their trip to the Exxxotica convention in New Jersey was an incredible experience I am so glad that I followed God's call and embraced the challenge of stepping out of my comfort zone. So many people that I talked to at the convention told me how cool they thought it was that we were simply there to spread a message of love and not one of judgment. I was extremely proud to be able to represent Christ in that way!"
-Julianna

"This was my third trip with XXXchurch and by far the best although I think I say that after every trip. I got several opportunities to bring our "Jesus Loves Porn Stars" shirts and the "Little Book of Hope" to guys manning the booths around ours. On Saturday I talked with a porn star named Saray who came to our booth. I offered her a shirt and one of our books; she mentioned something about the Bible and I asked her if she needed one. Saray said she had the Bible app on her phone but hadn't read it because she didn't know where to start. I briefly explained a little bit about the Old and New Testament and what was in them and the four gospels and suggested she start by reading John. She said she would go home and read it that night and when I saw her on Sunday she said she had started reading and couldn't wait to see us again next year. Can't wait to come back next year!"
– David

"This trip helped me to grow and stretch. It taught me to fully embrace the empty. It taught me to meet people where they may be. It taught me to follow the convictions of the Holy Spirit instead of the false discernment where 'comfort' always equals 'Holy.'"
– Grace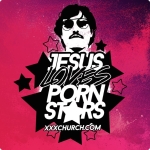 "Don't blame the dark for being dark, blame the light for not shining on the dark."

If you are interested in joining us on an upcoming outreach please go to myxxxchurch.com and apply today.

Exxxotica Edison Recap 2014 by Carl Thomas is licensed under a Creative Commons Attribution-NoDerivatives 4.0 International License. Based on a work at https://xxxchurch.com.