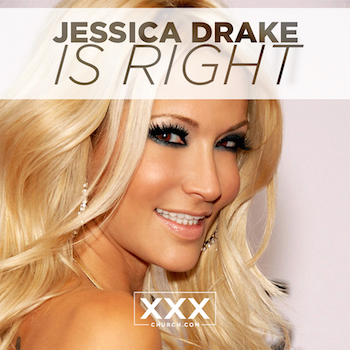 I have been sick again all weekend and went to sleep early Sunday night while the team was wrapping up from a great weekend at eXXXotica.  I woke up this morning with twitter going crazy and my text messages being blown up.
When I started XXXchurch.com and went to our first convention in 2002, it was a small group of us. As the ministry has grown and shows have expanded we have many people join us at conventions from across the world. I don't go to all of them anymore and we do our best to bring people that will represent us well.
Our team does an amazing job on the show room floor. Recently, we have been given some opportunities to do makeup for a lot of the industry girls as well in the Hotties rooms and the women doing this do a great job.
Last night, someone who was on the New Jersey team was flying home and was sitting next to Jessica Drake. I know of Jessica. She is someone that I know many people have tried to reach out to over the years and we have never really connected with her. You are reading this and thinking… now here is your chance on a 4 hour flight sitting right next to her.
It didn't go as planned. I am going to link to Jessica's blog post. You should check it out here.
I already apologized to Jessica and exchanged some messages earlier this morning. I am grateful that Jessica Drake responded to me and didn't just brush me off.
I didn't want to write a blog that just issues a "public apology". Yes, Jessica I am very sorry but this blog is for the rest of you not Jessica.
This was an error by an individual who thought the show was over but needed to realize what we do on the showroom floor needs to be the same thing we do when we are in 28e.
This blog is for you who sit in church on Sunday with your hands lifted high but are awful to your family at lunch.
This blog is for those of you who preached the message on Sunday but live like hell on Monday.
What matters more then what your do in ministry or at church is what you do or don't do when you are off the clock. That is the real ministry.
I am bummed that this young girl could have had an amazing opportunity to get to know Jessica on that flight home. She could have had the chance that no one else on our team has been able to have because she was sitting next to her on a plane.
I am making sure any person who goes on future conventions with us will be given Jessica's post before doing anything with us.
If you read Jessica Drake's blog post, I hope you realize these things:
1.  This woman is smart and passionate. She posted this blog as soon as she landed and was so fired up and had every right to be. Often time people think all porn stars are un-educated and have nothing to say.. read this post and you will see that is not Jessica.
2. Porn stars are not "icky" or "sketchy".  Porn stars are loved and deserve to be valued and respected on a showroom floor and on a flight home.
Bottom line.. whether you are at work, school or at home today… pay attention to who is sitting next to you. That is your chance to shine.  Go.