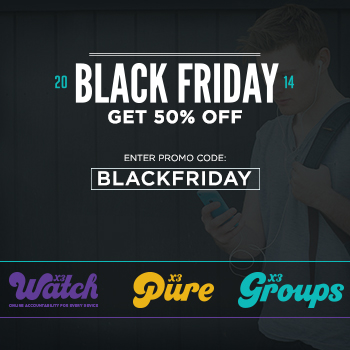 Well I don't know about you, but I don't totally get the whole Black Friday thing.
Who wants to stand in 3 hour lines at midnight, avoid being trampled by people running to the electronics department, or deal with all the stress of trying to plan the perfect Black Friday shopping attack plan? NOT ME!
But, beyond all this, what really gets me is that all these people who rush out to shop at midnight (or the crack of dawn) are in a HUGE hurry to spend their hard earned money on a bunch of stuff that really doesn't matter. Stuff that at the end of the day makes no real difference in the quality of their lives.
Whether it's the toy truck for your son that will get buried in the closet two weeks after he gets it.
Or the gym equipment that will eventually serve as a dust collector.
Or the big LCD TV for the family room (Ok, admittedly one can argue that BIG TV's are life changing … at least for the men)
So all that being said, we at XXXchurch.com want to give you a SPECIAL Black Friday opportunity.
Not just another offer for big savings on meaningless stuff, but a REAL opportunity to save on things that will positively impact your life.
Starting Black Friday we will be offering 50% off our most popular resources. (Tweet This!)
X3watch Premium – Our top rated monitoring and filtering software designed to guard you and those you love from the stuff online that you really don't want to or need to see.
X3pure – Our 30 day workshop that will give you the edge and help you need to break FREE from porn addiction once and for all.
X3groups  – Our online small group program that will help you build the life changing community you need as you journey towards sexual wholeness and healing.
Best Sex Life Now – Get the BEST SEX now! Our newest workshop just for married couples!
Also, any non-clearance items in the XXXchurch store will be 50% off plus you can get FREE shipping on all orders over $75.
So there you go.
A HUGE savings opportunity.
On stuff that really matters.
And you don't even have to stand in line or even leave the house.
Just use the discount code BLACKFRIDAY at checkout.
I hope you enjoyed the turkey and football yesterday!
PS: These offers are good until cyber Monday (Use Code CYBERMONDAY) but will not be extended beyond that no matter what so jump on this offer while you can!

X3Black Friday – Your Chance To Save Money On Something That Really Matters by Craig Gross is licensed under a Creative Commons Attribution-NoDerivatives 4.0 International License. Based on a work at https://xxxchurch.com.