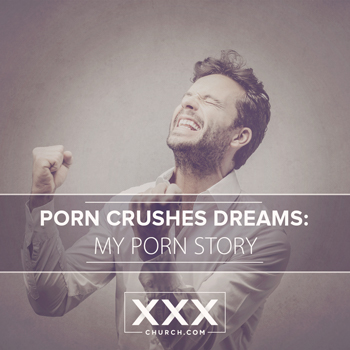 I have an uncommon–though unfortunately not unique–story when it comes to getting free from porn. It's a story that's hard to hear, but like all stories, it begs to be told and demands that lessons be learned from it.
I've struggled against porn addiction for pretty much all of my adult life. There have been times when I had a lot of victory over it, and there have been times when it dragged me all the way down to the bottom. Unfortunately, my most recent extreme is a trough, the lowest point of my struggle in my whole life.
I had to give up my dream job because I'm a porn addict.
The details are numerous and largely unimportant, but I didn't get hold of my addiction. I let my demons become more precious to me than my passions. I was too proud and too vain and too scared to let anyone know how much I needed help.
At that time, I was going to a support group, but I wasn't being honest with my brothers about the extent to which I was losing control. I was letting my addiction influence me to make poor choices, choices I hated, choices that were in direct contradiction to the things I said I valued. And when I finally went to my mentor and told him the things about which I was so ashamed, it was too late for me.
It was too late for me to stay where I was and get healthy. It was too late for it to be okay for me to be struggling like I was and remain faithful to my work. I had to let it go, and it was the hardest moment of my life. There isn't a minute that goes by where I don't think about that day and what I gave up. I had the best job in the world, but I didn't value it; I didn't respect it; I loved porn more than I loved doing what I've always dreamed of doing.
You have a story. I pray sincerely that it hasn't come to where my story has come. Don't let your story get to the place where mine was. Stories about stubborn, dishonest men and women who think they can fix their problems on their own always end in tragedy. Mine did, and yours will, too, unless you get help.
It's not too late for you! Learn from my mistakes and my testimony. It started when I lost accountability. It started when I deleted X3watch from my phone and quit emailing my accountability partner. If you're there, it's not too late to turn back, but you must decide now that you want accountability!
Make your story one of triumph and not of delusions followed by heartbreak (Tweet This!).
I've been there, and it's so much better to be victorious over porn than to let it wreck your dreams.
---

If you struggle with pornography there is help for you. Join an X3group and connect with others just like you. Right NOW you can join any group and get your first 30 days for HALF OFF with Discount Code X3HALF. Don't let porn such your dreams.