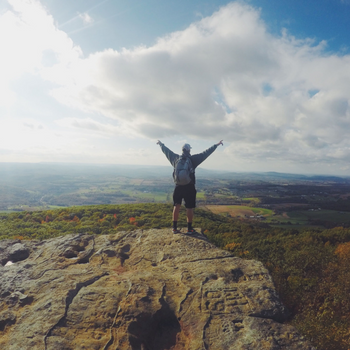 Today, we come to a crossroads. This is it. Today's the last day you can register for My Pilgrimage.
My Pilgrimage isn't just a recovery program.
It's a new way of thinking and living.
I hold pretty tightly to the conviction that transformation begins with the mind.
If we can renew the way we think about sex, temptation, depression, anxiety, worry, dissatisfaction – life itself – we can change a lot.
What if you've been thinking about your struggles all wrong?
My Pilgrimage provides a holistic way of thinking that turns what you thought you knew completely upside down – and for the better.
It's a new way of interacting.
If I'm right and you've been thinking all wrong…your mentality has had a huge impact on the way you treat yourself. I'm willing to bet you've been interacting with your soul in all the wrong ways, too.
My Pilgrimage shows you a better way for caring for yourself at the soul level.
It's a new way of living.
You don't have to live in a war zone. You don't have to do battle with yourself every time a temptation springs to mind. You don't have to walk in fear of seeing something that will send you spiraling out of control.
Instead, you can undertake this sacred journey and learn to walk in peace for the rest of your life.
So many people are finding a freedom they can feel.
They're joining up for their pilgrimage and – already – they're reading the book, they're working the guidebook, they're studying the videos…
and they're waiting on you to begin encouraging one another in the small groups online.
I guess my question now is, "Don't you want to experience that too?"
Would you like be a part of giving and receiving that encouragement with other people who believe that freedom is possible, and want to help one another get there?
You still have time to join them but that window closes today and your spot won't last forever.
We'd love to open this up to everyone but we can't. We only have so many groups that we can invite people into and since they're absolutely essential on the journey to freedom, we want to make sure they're the best – and most helpful – that they can possibly be… but that means space is limited.
Will you take advantage of the opportunity to join us on this journey before that space runs out?
My Pilgrimage closes for the year at midnight tonight.
Join the journey to freedom right now.
[shortcode-variables slug="my-pilgrimage-bottom"]